The list of seven actions below describe an ideal student. If mastered and put into action they would allow any student to complete literacy tasks with confidence towards gaining a good outcome. This may be in the form of a high mark, good comments but, hopefully, positive self-talks that motivated them to work to excellent results.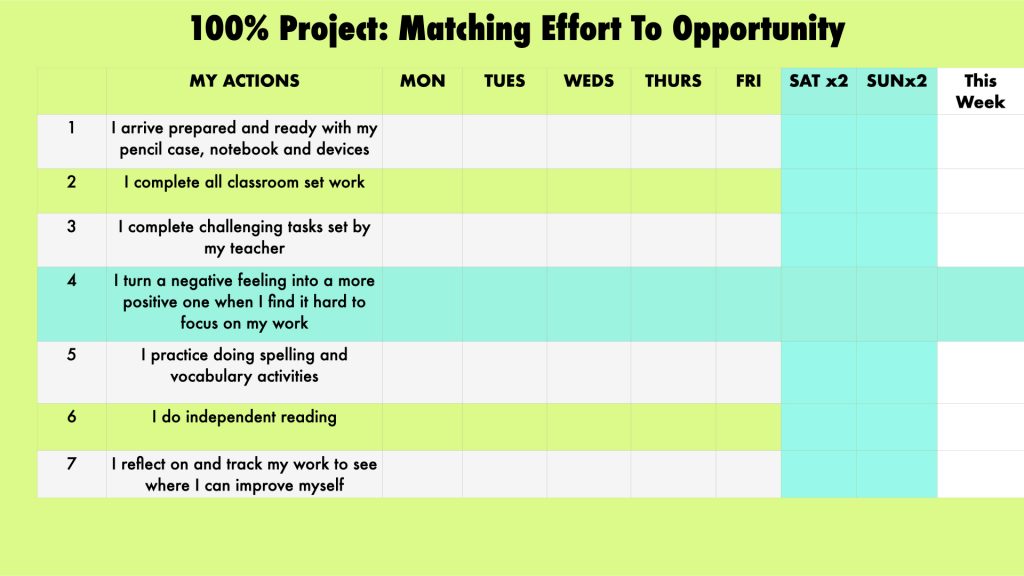 So, how can you use this chart to bring out great learning habits?
Look down the 7 areas of effort. Which ones do you believe you need to work on?
Look across from left to right and notice five blank squares that represent the week-days (for 10 points each), blue squares that represent the weekend and the hardest task on the list (for 20 points each)
Notice the TALLYING square at the very end (for sum total of 90 points per line and 140 points for the fourth line).
Understand that the total score card amounts to a total of 680 points!! That's a lot of opportunity in which you can earn just 100 points.
At the start of the week pencil in how you intend to earn your 100 POINTS
Allow Dr De Rossi to copy your plan (photo on phone)
Return the next week and show what you have managed to accomplish.
Allow Dr De Rossi to copy what you achieved. This is locked in and goes towards your points tally for the term which will let you 'buy' your holiday rewards for the holidays.
Some suggestions
| | What Can I Do? |
| --- | --- |
| 1. I arrive prepared and ready with my pencil case, notebook and devices | You think about what you will need for your class – book, pens, pencils, paper etc. Think about the quality of your note taking and organisation of your work |
| 2. I complete all classroom set work | Copying from board, completing a worksheet or activity – not distracting others when you've finished – listening and participating and finishing written tasks in time |
| 3. I complete challenging tasks set by my teachers | These vary from day to day – but you can earn extra from Dr De Rossi's challenges too, including NAPLAN practice. |
| 4. I turn a negative feeling into a more positive one when I find it hard to focus on my work | Moving yourself away from distracting friends. Talking to your teacher and Dr De Rossi on strategies to meet literacy goals that you're finding boring, challenging or both. |
| 5. I practice doing spelling and vocabulary activities | Practising lists handed out by teacher or Dr De Rossi and grow your vocabulary exercises on a continual basis |
| 6. I do independent reading | Reading at least 20 minutes per day. |
| 7. I reflect on and track my work to see where I can improve myself | Looking over your LEARNING INTENTIONS and SUCCESS CRITERIA for the week. |
| | |